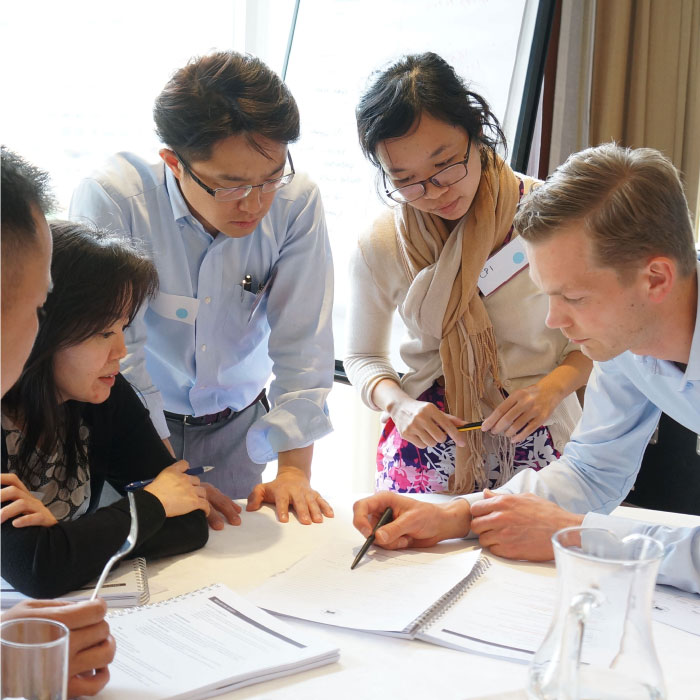 Over
view
Unleashing Personal & Organisational Potential To Redesign Society
Leaders today have no choice but to commit to grasping and keeping track of global challenges and trends and anticipating the impacts on their organisations and the societies they serve.
Leadership Development must be purpose-driven, rooted in contemporary realities and focused on globally relevant skills for collaborating across regions to offer solutions. Off the shelf theories can no longer suffice.
GIFT has for more than a decade delivered leadership solutions derived from the frontlines of change in Asia and is committed to transforming the mindsets and behaviours of leaders poised to shape the future.
Leadership Development Obje
ctives
GIFT has helped our clients achieve their leadership development objectives including:
The GIFT Approach To Lea
dership
PURPOSE AS A FOUNDATION
Establishing the awareness, alignment, and motivation to deepen one's sense of purpose across the four spheres of personal, professional, community and global life experience.
BROADENING KNOWLEDGE AND PERSPECTIVES
Committing to widening one's worldview premised on a willingness to challenge personal assumptions, learn from others, adopt habits of curiosity and integrate novel concepts.
BEYOND FUNCTIONAL SKILLS
Embracing the needed upskilling for the 21st century and a post-Western world, including the requisite cultural sensitivity to lead across regions, to embody agility in hybrid contexts and maintain personal resilience in the face of crises.
MINDSET SHIFTS FOR OWNERSHIP & ACTION ​
Cultivating mindsets and behaviours for effective leadership, through honest intellectual inquiry, boldness of vision, responsibility for team dynamics, ownership of outcomes and a willingness to take action.
TYPES OF PROGRAMMES
Open-Enrolment Public Programmes
Learn alongside top talents from leading global companies and government agencies. Unforgettable debate. Uncommonly candid reflection. Life-changing field projects. Lifelong learning & transformation.
Customised Program
mes
GIFT will design and facilitate a leadership programme according to your needs and preference
STEP 01
Identify leadership strengths, gaps, opportunities
---
INITIAL CONSULTATION
GIFT team provides initial consultation with clients to identify needs
SKILLS-GAP ANALYSIS
GIFT can facilitate a skills-gap analysis to develop a success profile and determine participant strengths and opportunities for growth
Facilitated process to identify competencies
Aligned with organisation and team needs
Benchmarked against chosen framework
Reflected in a "success profile" if required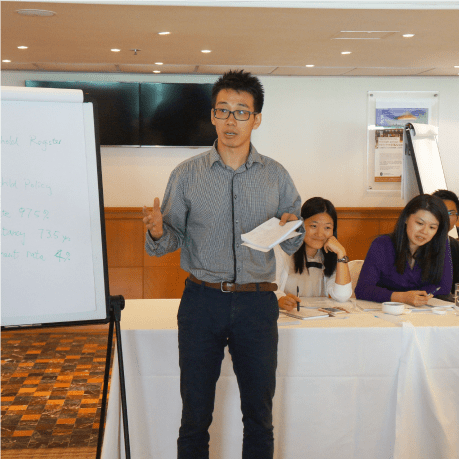 STEP 02
Define leadership development objectives for the participant cohort or individual leaders
---
DEVELOP COMPETENCIES SUCH AS:
Strategy and Decision Making
Agility and Innovation
Purposeful Stakeholder Engagement
Growth Mindset and Curiosity
Communication for Managerial Effectiveness
Self Belief and Personal Resilience
Ownership and Action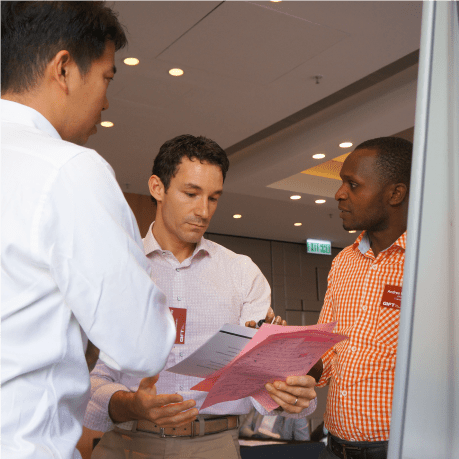 STEP 03
GIFT designs a programme based on identified needs and objectives
---
CUSTOMISABLE FEATURES INCLUDE:
Structure, duration and number of learning days
Content adapted to industry and regional focus and include industry speakers
External or internal project work
In-person, online or hybrid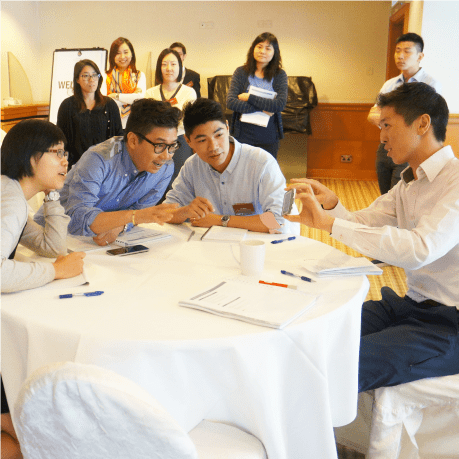 METHODOLOGY
Outcome-Driven Lea
rning
Exposure to the forces driving change. Meeting your future customers. Solving problems of the future. Personal transformation for breakthrough business ideas.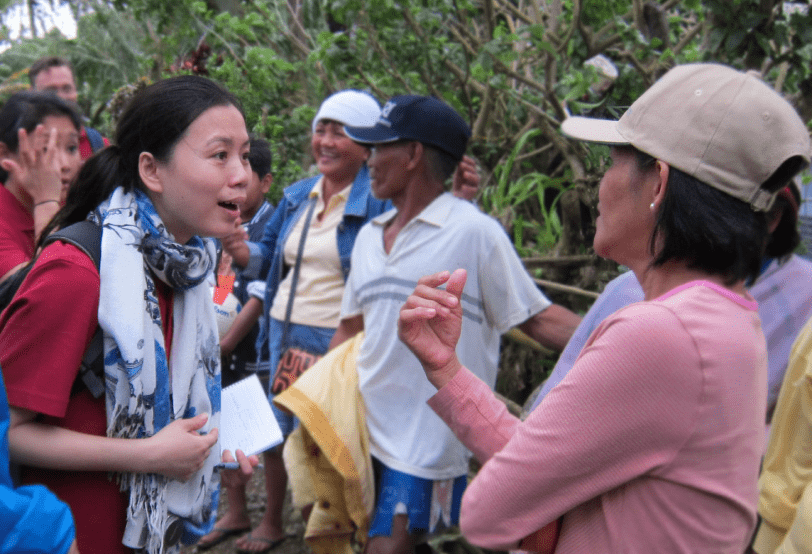 Bespoke Field Projects
Rethinking stakeholder ownership
In-market problem-solving
Collaborative business modelling
Policy innovation for sustainability
Re-imagining tech for value creation
Investment analysis, pre-feasibility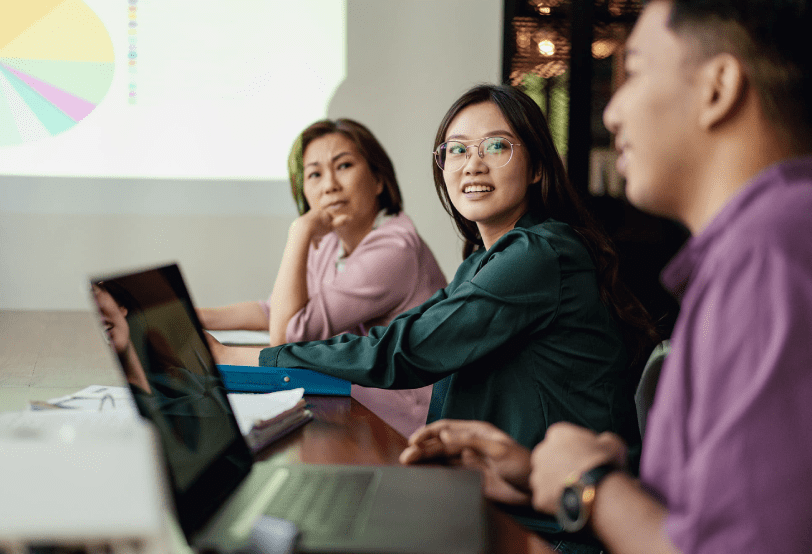 Transformative Action Learning
Leading meetings and driving outcomes
Real-time facilitator interventions and coaching
Giving and receiving feedback
Appreciating the value of personal reflection
Personalised evaluations and briefings
Online / Hybrid options
Proprietary Con
tent
Includes frontline insights from 100+ field projects with SMEs, governments and civil society groups across Asia. Prepares leaders to confront humanity's biggest challenges.
KNOWLEDGE
Understand our world. Making curiosity a habit. Knowing what you don't know.
Rethinking stakeholder ownership
In-market problem-solving
Collaborative business modelling
Policy innovation for sustainability
COMMUNICATION
Skills for personal effectiveness. Strategies for influencing. Tools for successful intervention.
Communicating for Influence & Impact
Managerial Effectiveness
Cross-cultural Communication
Leading Outcome-Driven Meetings & Impactful Presentations
EMPATHY
Enhancing self-awareness. Balancing self-belief & humility. Responding effectively.
The Role of Empathy in Leadership
Cultural Sensitivity in Practice
Purposeful Stakeholder Engagement
Organisational Savvy & Situational Self-Awareness
HIGH-PERFORMANCE
Recognising potential. Stewarding team dynamics. Leveraging diversity of thought.
The Power of Purpose
The Role of Curiosity in Leadership
Agility & Innovation
Personal Energy & Positivity
Proprietary Leadership Toolkit
Proprietary Leaders
hip

Toolkit

Practical, accessible, action-inspiring leadership tools. Gain greater self-awareness. Help teams elevate interpersonal dynamics and productivity. Anchor the habits of purposeful engagement. Engage with teams to cascade benefits through your organisation.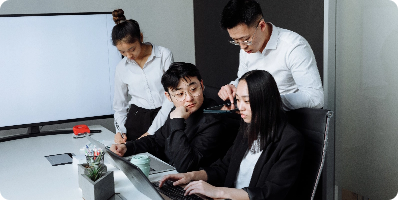 LEADING OUTCOME DRIVEN MEETINGS
Unstructured and poorly chaired meetings are a drain on productivity, morale and vital resources. The PASSION tool aims to address this issue by providing universal guidelines for facilitating effective, outcomedriven meetings and invites teams to score and provide feedback to one another for continual improvement.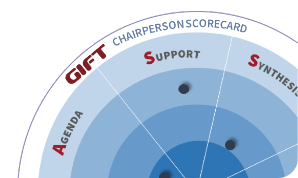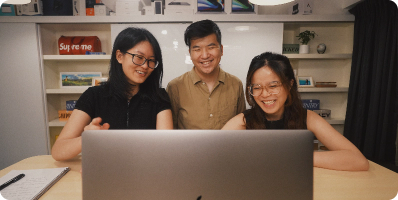 SUPERCHARGING TEAMS: THE PRISM OF HIGH PERFORMANCE
The PRISM tool presents the five essential ingredients for creating high-performing teams, and invites participants to diagnose team strengths and shortcomings in real-time.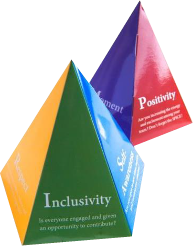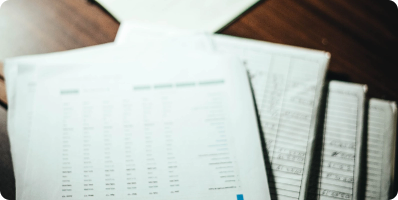 THE PURPOSEFUL ENGAGEMENT QUOTIENT (PEQ)
The PEQ is a simple, practical self-assessment tool that emphasises behaviours around KCE, linking these to a deeper realisation of purpose in work and life. After completing the 54-question survey the PEQ generates a score and a list of constructive recommendations for personal and professional development.
---